German killer's warning: I'm going to give them hell
12/03/2009 14:24
WINNENDEN, Germany (CNN) -- The teenager who killed 15 people in Germany issued a warning about the attack on the Internet the night before his rampage, saying "I have got a weapon here and... I am going to go to my former school and give them hell."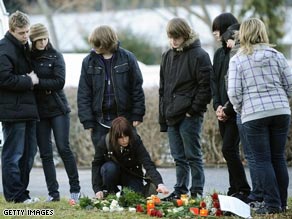 Teenagers lay flowers at the school where Tim Kretschmer began his rampage.
Police said Tim Kretschmer, 17, held a conversation online with another user the night before Wednesday's attack.
Kretschmer said: "Everyone laughs at me. No one recognizes my potential. I mean this seriously. I have got a weapon here and tomorrow I am going to go to my former school and give them hell.
"Maybe I would escape, keep your ear to the ground. You'll hear from me tomorrow morning. Just notice the name of the place, Winnenden. Don't say anything to the police."
The other teenager replied: "Laugh out loud, course you will."
"I need to see some pictures before I believe it," the teenager added.
Heribert Rech, interior minister of the state of Baden-Wurttemberg, told journalists that media reports indicated a teenager from Bavaria reported the Internet conversation to his father.
Kretschmer, dressed in military gear, began his rampage about 9:45 a.m. Wednesday at Albertville-Realschule school in Winnenden, about 20 kilometers (12 miles) northeast of Stuttgart.
Most of the victims at the school were female -- eight female students, three female teachers and one male student, said Rech.

Watch more on online threats »
Kretschmer did not shoot wildly, Rech said, hitting most of his victims in the head.
The gunman killed three others -- one at a nearby psychiatric clinic, and two at a car dealership -- before he was spotted by police about three and a half hours later.
Police said Thursday that 15 guns had been found at the killer's home and violent video games. The guns belonged to Kretschmer's father, who was a gun club member.

Watch more on probe into attack »
Regional police director Ralf Michelfelder said that under German law legally purchased weapons had to be kept in places inaccessible to anyone who wasn't the license-holder.
Michelfelder said it was still not clear whether the gunman then committed suicide or was shot by officers. Read how students jumped from windows to escape
He said prompt action from teachers at the school had saved lives. They knew to barricade themselves inside classrooms, keep students away from windows and get everyone to lie on the floor.
Michelfelder said Kretschmer may have planned to confine his attack to the school but the prompt action of teachers locking down their classrooms and the arrival of police -- who exchanged fire with him -- forced him to flee.
He said police found more than 60 spent rounds from the gunman's 9 mm Beretta pistol, indicating that he must have fired at least five dozen times.
They also found a "large number" of bullets that the gunman either dropped or tossed as he fled the campus.

Watch the gunman's deadly route »
Don't Miss
Kretschmer opened fire in three first floor classrooms, including a physics lab where a teacher was found dead behind her desk, Rech said. Do you think the gun control issue is taken seriously enough?
Student Louis Schweizer was in class when he heard the gunshots. "When I came out, I saw the shell casings lying around everywhere," he said.
His sister, Lisa Schweizer, also heard the shots. "It is a tragedy," she said. "One of my teachers was killed."
Another student told CNN: "We heard that someone was inside shooting. Then we also saw a teacher who had blood on his hands because he wanted to help a female teacher who sacrificed herself for a student -- she stood in front of a student to protect her."
Fifteen-year-old Natta lost a long-time friend. "She was a very good friend of mine from soccer, and I knew her since we were four years old and it's very hard," she said.
About 1,000 students attend the school where the killings began.

Map of the area »
"It (Winnenden) is a small town, an idyllic town," said Frank Nipkau, the editor in chief of Winnenden Zeitung newspaper. "The town people are devastated and they can't understand why this is happening in this town."
Security at German schools has been an issue in the past.
In November 2006, an 18-year-old former student strapped explosives to his body and went on a rampage at a middle school in western Germany, shooting and wounding six people -- most of them students -- before killing himself.
In July 2003, a 16-year-old student shot a teacher before taking his own life at a school in the southern German town of Coburg. iReport.com: 'Fear and confusion' in German town
A year earlier, 18 people were killed when an expelled student went on a shooting spree at his school in eastern Germany.